This past week was the famous Victoria's Secret Fashion show, and if you like pop culture even a little bit you've heard about it. Models dawn their wings and strut the runway to today's top 40 hits, and everyone looks stunning. Shocking to no one, but every model has the same body type as if there's a Victoria's Secret Model factory creating new girls out of cookie cutters. They're small, tall, and fit. There's not an ounce of fat, or a spec of cellulite, not a piece of hair out of place. They're "perfect." And people love it. I'm over it. And I've been over, but then Tess Holiday posted an Instagram and I was SOOOOOOOO over it.
So I google the article… And boy was I angry. I'm very used to the fashion world being out on fat girls, I'm used to Victoria's Secret being out on fat girls, but seeing it come out of the mouth of one of the executives of the multimillion dollar company was INFURIATING. You can read it for yourself but let me give you some of the key quotes:
"Shouldn't you have transsexuals in the show? No. No, I don't think we should," [Ed Razek] says. "Well, why not? Because the show is a fantasy. It's a 42-minute entertainment special." 
"We attempted to do a television special for plus-sizes [in 2000]. No one had any interest in it, still don't," he also says bluntly.
The W Magazine article is just a summary of the original Vogue article, but the same sentiment is carried through both: VS isn't going to be inclusive any time soon.
So okay, they don't want fat people, that's nothing new, but the transphobic comments, that's a huge no from me. How are you going to call yourself a women's retailer if you don't cater to all women?!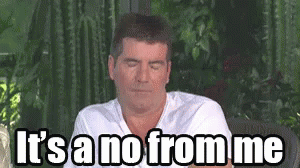 They say the brand is to blame. That they don't cater to everyone, the same way Lane Bryant caters to just plus size woman. Would you like to know why Lane Bryant caters to just plus sizes? Because there was a need. There isn't a need for more straight size stores. There are so few stores selling to fat women, while everyone else in the world is selling small, medium and large. The CEO said that if the Victoria's Secret show did what Fenty did they'd be attacked for pandering because it's "not the brand." I beg to differ. If the Victorias Secret Fashion Show had a plus size model, literally just one, I'd be shouting from the rooftops and this blog post would be a whole hell of a lot more positive.
They also argue that they're racially diverse, which while true, doesn't excuse that they are apparently trans and fatphobic. I see you VS, and I don't wike it.
How does this make me feel as a fat woman? It makes me feel shitty. That my body will never be accepted by their ideals. That I'm not apart of their "fantasy." I've spent a lot of money on things at VS and it pisses me the fuck off that they don't even want me buying their clothes… Which also kind of makes me happy because I can wear their underwear and bras even if they don't want me to.
So in honor of the fact that I'm never going to buy anything from VS anymore here's a list of stores that sell lingerie, undies, and bras in straight sizes AND plus sizes that don't suck (:
---
Did you like this post? You can sign up to receive emails whenever I post anything new here (biracialbooty.com/mailing-list)! Or you can follow me on Twitter (@biracial_booty), I like to think I'm pretty funny and also I tweet links to my blogs the second they go live (the literal second, I have it done automatically because I'm a social media #superstar). OR you could follow me on Instagram (@biracialbooty), I post more content, including my favorite Podcasts, music, makeup, various body positive posts featuring my chunky self and some of my favorite fat babes, and so much more!