I'm a big Patriots fan. I've been a fan of the team since literal birth, Tom Brady is basically my Jesus and Bill Belichick is my God. But I also am not the brightest football fan, I'll admit that. I don't understand fantasy football, it's hard to keep up with all the rule changes every season, and keeping up with the drama of 32 teams is very difficult.
But ladies and gents if you don't get football either, the time is now to learn. If you want to be able to hold a conversation with someone about the ole pigskin, or just want to learn about a new sport I have the blog for you. It's Wildcard Weekend and I'm going to learn you a few things about football. Between my knowledge and the wonderful world that is Wikipedia, I bring you "Gridiron Girls: Football for Chicks by Chicks" and by chicks, I just mean anyone who doesn't get football, it is by a chick though. Me being the chick.
I really should've started this series earlier in the season, but for now, you'll get the playoff version of Gridiron Girls.
It's the end of the regular season of the NFL which means it's PLAYOFF TIME BABYYYYYY. I have a love/hate relationship with the playoffs because if you lose you're out, but each game is so important which makes them so fun to watch. Wildcard Weekend starts today, and if you're a Patriot's fan you're probably like "what the hell is wildcard weekend…?" By the end of this blog you will fully (hopefully) understand what the heck is going on with the NFL playoffs.
What are the playoffs?
We're starting with the basics people. Remember in high school when your teachers told you to write essays as if you're writing to an alien from another planet that has NO idea what you're talking about? No? Just me? Okay. Well, that's how I'm approaching this blog. I'm pretending no one knows anything about anything, so please feel free to scroll to your appropriate knowledge level.
Anyways
The playoffs come at the end of every football season (the regular season being 17 weeks long with 16 games for each team), and they are a single elimination (if you lose you're donezo) until the Super Bowl (that thing with the funny Dorito commercials and cool musical number halfway through). There are three rounds before the big game:
Wildcards

Divisional Round

Conference (AFC/NFC) Championship

Super Bowl
Each round happens right after each other, with a one week break between the Conference games and the Super Bowl, it gives each team time to gather themselves, travel to the Super Bowl, do media shit, etc. Oh, also the Pro Bowl happens during this week, which is where the best players at each position play in a game that no one actually watches.
How many teams make it to the playoffs?
12 teams make it to the playoffs each season, 8 play in Wild Card weekend, and then the winners of those games play the 4 remaining teams in the divisional rounds. The NFL is divided into two segments the AFC (American Football Conference) and the NFC (National Football Conference), and 6 teams from each conference go to the playoffs. In each round of the playoffs, one team from each conference is knocked out until we get to the Super Bowl and the mightiest teams are left, it's basically the hunger games except no one dies.
How do you get to the playoffs?
Short answer:
You win
Long Answer:
Remember how I said the NFL was broken up into 2 conferences? AFC and NFC? Well, Each of these conferences is broken up into 4 divisions. AFC East, West, South, and North. NFC East, West, South, and North. The actual directions make absolutely 0 sense but just roll with it, please.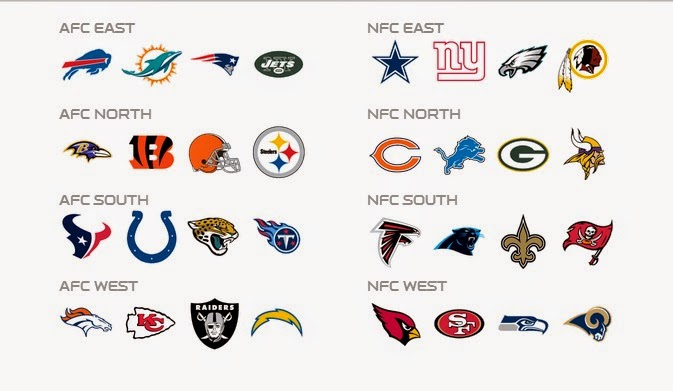 So by the end of the season, based on how many wins and losses each team has, there is a winner of each division. It's a little more complicated than that, but the basic gist is that if you have the best record (and beat the other teams in your divison) you'll make the playoffs. If you're a Patriot's fan you're familiar with this because we always win AFC East. With each division having one first-place team, that leaves 4 more teams. 
So what do you have to do if you're not the leader of your division? Have the best record (or second best record) of all the other teams in your conference (AFC or NFC). It's not dependent on a specific record, it's not like "if you win more than 10 games, you're in!" It really banks on how good or bad the other teams are. In 2008 the Patriots had an 11-5 record and didn't make the playoffs because we didn't win the division and we didn't have one of the best records in the AFC. But this year, we have that same record and won our division. And the first year we won the Super Bowl we had a record of 11-5. SOOOO it really just depends what everyone else is doing.
What teams are in the playoffs this year?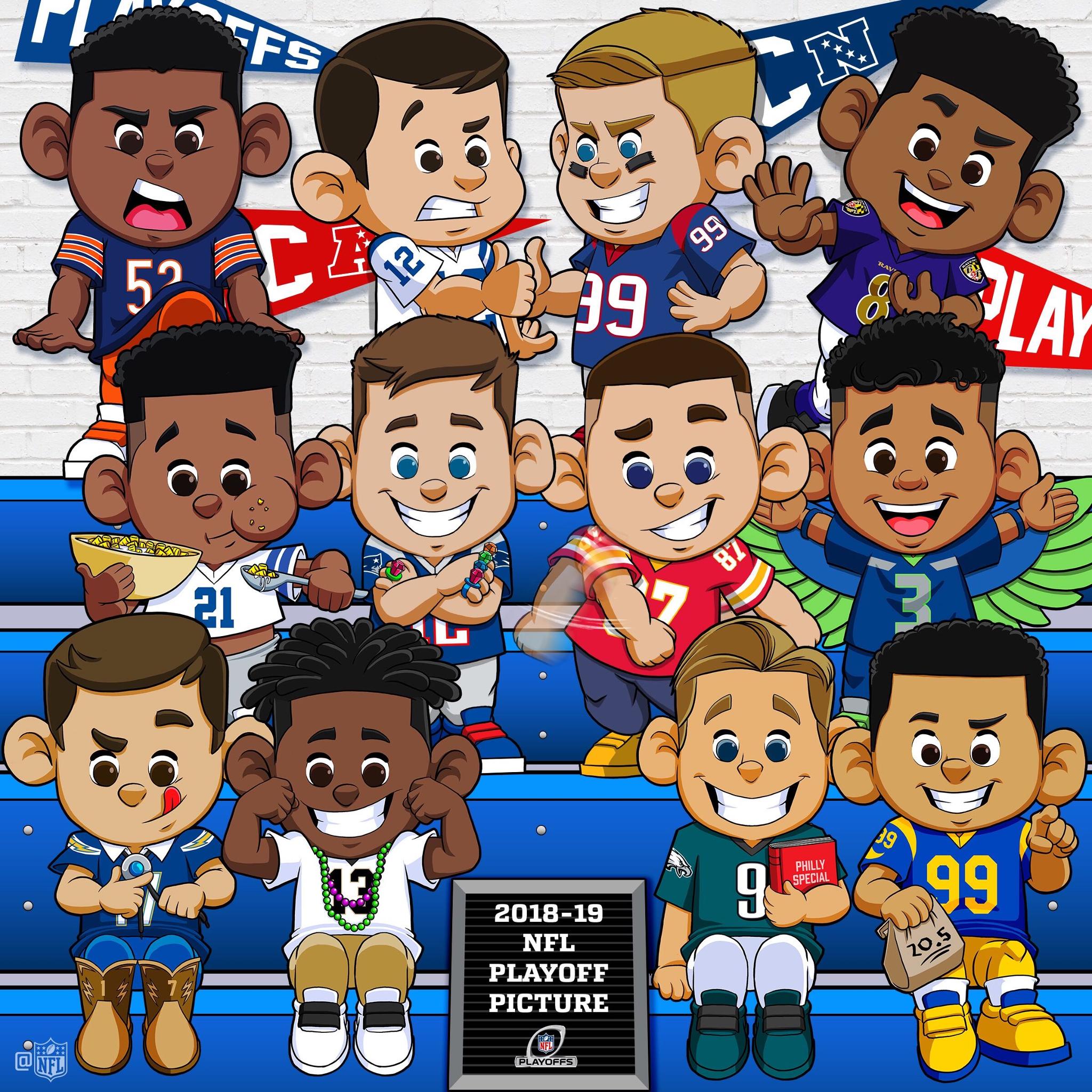 The Division Leaders:
AFC East: New England Patriots
AFC West: Kansas City Chiefs
AFC North: Baltimore Ravens
AFC South: Houston Texans
NFC East: Dallas Cowboys
NFC West: Los Angeles Rams
NFC North: Chicago Bears
NFC South: New Orleans Saints
Indianapolis Colts
Seattle Seahawks
Los Angeles Chargers
Indianapolis Colts
Philidelphia Eagles (reigning Super Bowl champions)
What is Wildcard weekend…?
Wildcard Weekend is the first weekend of the playoffs and basically determines who plays in the divisional round. 4 teams (the 1 and 2 best teams from the AFC and NFC) get to bypass this round and have a week to prepare for the divisional round. This year, the Kansas City Chiefs and the New England Patriots from the AFC have a bye week, and the LA Rams and the New Orleans Saints from the NFC have a bye week.
What's the Schedule! 
Today being Saturday, January 5th and tomorrow being Sunday, January 6th.
The winners of these games will play The Chiefs, Rams, Pats, and Saints next weekend.
I really hope this helped y'all better understand what's going on. As for who we want to win each game? Always root for the Patriots. That is all folks.
---
Did you like this post? You can sign up to receive emails whenever I post anything new here (biracialbooty.com/mailing-list)! Or you can follow me on Twitter (@biracial_booty), I like to think I'm pretty funny and also I tweet links to my blogs the second they go live (the literal second, I have it done automatically because I'm a social media #superstar). OR you could follow me on Instagram (@biracialbooty), I post more content, including my favorite Podcasts, music, makeup, various body positive posts featuring my chunky self and some of my favorite fat babes, and so much more!