This title isn't even clickbait. It's real. I spent summer nights (and every other night) in middle school – and apparently freshman year of high school – hanging out with my friends at Jordan's Furniture in Reading.
If you're not from New England or even just my side of the tracks, you're not familiar with the amazing adventure that is a trip to Jordan's furniture.
Jordan's Furniture is so much more than a place to buy a couch.
It's an EXPERIENCE.
Jordan's Furniture is where I first ever told a boy I had a crush on him, I met my first 'celebrity' there, I laughed, I cried (probably), I had a lamp adventure, and so many more embarrassing memories and moments…
Inside of my Jordan's there's a Fuddruckers, a fire burger joint with the BEST cheese sauce and fries, a Richardson's Ice Cream, if you're from New England you know the deal, a Jelly Belly gift shop, an IMAX theater, a trapeze school, and a water fireworks show. On top of all of this, they have huge showrooms for all of their furniture. From rooms set up as kids' bedrooms to a room full room of reclining chairs.
Instead of hanging out at the mall, or whatever else prepubescent children do nowadays, we would go to Fuddruckers and get fries and shakes or Richardsons for ice cream, and then we'd wander the showroom. We were particularly fond of the huge ass room filled with reclining chairs. We'd sit on those chairs for what seemed like hours and talk about all the gossip and drama that 12 year olds have.
When you walk in the revolving doors, you are met with the sweet sounds of Elliot, owner of the furniture giant, warning of the potential sudden stopping of the automatic doors. You're greeted with a shit ton of sculptures made of JELLY BEANS. You think I'm joking? Literally look at this shit. It's ALL jelly beans.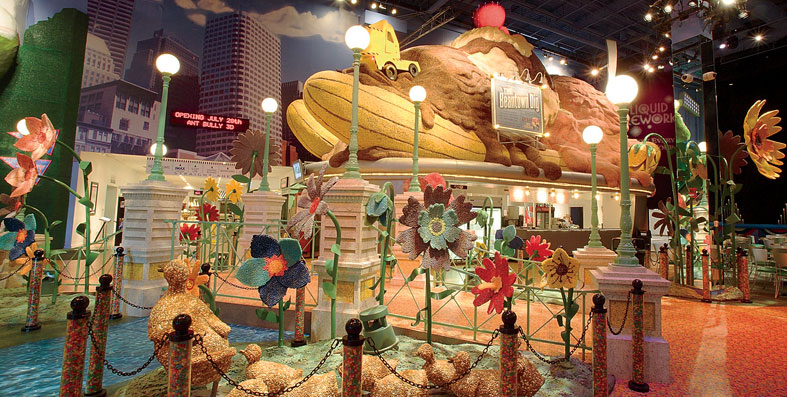 The Reading location is super Boston themed, obviously. There's a jelly bean sculpture of the state house with its iconic gold dome and a version of Boston's Paul Revere statue with the owners riding the horse. The most Boston of them all though… A GIANT mechanical Wally the Green Monster with a Yankee's player stuck in its baseball glove. We love our sports teams in Boston, but we hate our rivals even more.
We would bounce from room to room, trying not to get yelled at by employees. I remember the employees all being old and terrifying, but thinking back on it they were probably only like 20-30 and just didn't want a bunch of kid's getting their sticky ice cream hands all over everything.
I have two distinct memories of being at Jordan's. The first is confessing my crush on one of my guy friends. The second is the strange 'lamp adventure' that my friend Sandra and I went on.
Before I get into these stories you need to know that middle school aged Sarah was a fucking trip. I was dripping confidence that I really had no right to be having, and I was annoying as fuck. I was just as obsessed with social media that I am now, except the only social media I had was Facebook. I was a goody two shoes who got detention for walking out of the wrong door to catch my bus. That last sentence really just sums up my life.
Anyways
Story number one is nothing different than anything else you've read on Celibate and the Suburbs. I'm an awkward hopeless romantic searching for love. I was just 14 this time.
I was sitting at Jordan's in the aforementioned room of reclining chairs, and my friends had convinced me that I would probably have a shot with the kid I like and that I should just tell him I liked him. But obviously I had to make things difficult, so I enlisted my friend Geneva to help me.
Do you remember back in the AIM days you used to message your crush "sooo who do you like?" in the hopes that they would say you? That's basically what Geneva did, but this boy took that as "hell yeah she likes me!" so his response was "I like you!" I was texting Geneva non stop asking her what he had said and she was like uhhhhhhhh… Which, rightfully so. I asked for Geneva's comments on this iconic moment in our friendship, and this is what she had to say:
It really was super middle school. Can't really think of anything more embarassing. Or can I?
While the above story was an embarrassing blow to my love life, this lamp adventure story is just an embarrassment to my street cred. Anyone who has mistakenly thought of that I was a cool person will be correct this very second.
To make a long story short: My friend Sandra and I walked around Jordans taking pictures of different lamps with our digital cameras and then I made an album on Facebook.
That's it. That's literally all we did. We called it Sandy and Sasa's lamp adventure. There was a fun edited picture using ~Picnik~ but I'm pretty sure I deleted that from existence… Thank god.
Also, Sandra, sorry for putting you on blast like this, but the world needed to know. At least we glowed the fuck up.
Also, I would just like to add that while I was searching for these photos on Facebook, I found out that this happened when I WAS IN HIGH SCHOOL. I was a freshman, but that's still high school. I'm even more embarrassing than I thought.
I mean it was still 2010, so I can't fully blame myself. Featured above is the said digital camera I took most of these photos on – Sandra took this with her, presumably fun colored, digital camera. That purple thing in the top right was my phone. I went through about 3 of those because they were made so poorly that the screen literally slid off of the keyboard.
Anyways, I'll leave you with this picture. This is me freshman year of high school. So yeah, it's just as bad as you think it is.
---
Did you like this post? You can sign up to receive emails whenever I post anything new here (biracialbooty.com/mailing-list)! Or you can follow me on Twitter (@biracial_booty), I like to think I'm pretty funny and also I tweet links to my blogs the second they go live (the literal second, I have it done automatically because I'm a social media #superstar). OR you could follow me on Instagram (@biracialbooty), I post more content, including my favorite Podcasts, music, makeup, various body positive posts featuring my chunky self and some of my favorite fat babes, and so much more!