If you don't know about the Sports Illustrated Swimsuit Issue then you probably live under a rock.
It used to be something I hated. A bunch of thin and fit bombshells flaunting their stuff at a tropical destination, not a flaw in sight. There's still some of that going on, but they've grown a lot since their start in 1964. NINTEEN-SIXTY-FOUR. That's a long ass time. We got diversity and fat chicks now!!
From what I can tell, they haven't had a plus size model on the cover, but we'll get there folks. The first black model graced the covers in 1996. It was our fave Tyra Banks. There were two pregnant models, Kathy Ireland and Rachel Hunter, in 1994. But that's just the cover, the cover ain't everything folks.
This year there was just so much to love. We had plussize models, gay models, non-white models, and god damn models in Hijabs. BAD. ASS.
First off, we got my girl Hunter McGrady. 
UMMMMMMMMMMMMM. Can you say bombshell???? I literally can't get over how good she looks. He thighs are everything. She posted an Instagram of her in this gorgeous white bikini and I think I became a lesbian. My kinsey scale is very much tilting towards homosexual right now. Also, can we talk about how hot the name Hunter for a girl is? I truly could know nothing about her but if you showed me these photos and told me her name was Hunter I'd probably fall in love. I mean I'm falling in love right now. She just looks like the kind of girl that makes you take tequila shots at the bar and drags you to the dance floor and shows you the fuck up. It's over, I'm obsessed with her.
Next, we got Veronica Pome'e, who's name might actually be Velonika? I'm getting conflicting answers on Google.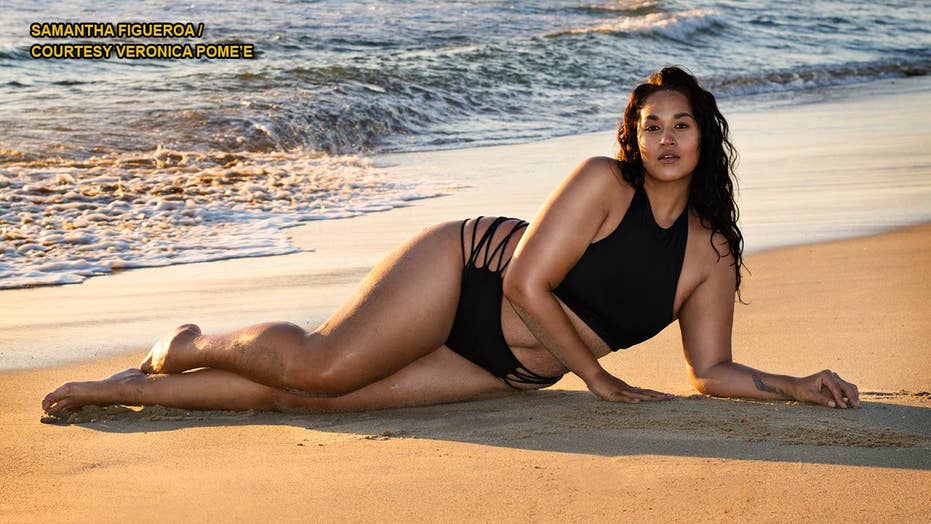 Veronica is the first ever Polynesian model to be in the mag and WOAH, she deserves it. The girl is GORGEOUS. Her HAIR. LOok at her fucking haIR. Wow I love her. Her Instagram might be the best thing I've ever seen? It's so fierce. Beyonce but make it form the islands. She's just amazing. Also, she's plus size, that's TWO for us!!
Tara Lynn has curves for MILES
Is this the hottest picture I've ever seen? Probably. Am I also thinking of all the sand that's all up in her coochie and her ass? Absolutely. Tara Lynn has got some CURVES. I don't think there's a straight line on her body! Oh and yeah she has CHILDREN. She birthed more than ONE CHILD. And THEN did a whole ass photo shoot naked and in bikinis. The audacity. It's honestly rude. THREE FOR THE PLUS SIZE MODELS! LETS. FUCKING. GO. I will say, all I can think about while looking at this photo is how much sand is all up in her crotch… I'm stressed thinking about it.
And now, I present you, the first person to wear a hijab in the swimsuit issue: Halima Aden.
BRUH. The girl is wearing a fucking Burkini in a fucking swimsuit magazine. The emotions that I'm feeling right now can't even be explained. THIS is what fucking inclusion looks like. If you told me even just a year ago that there would be a model completly covered head to toe in a Sports Illustrated Swimsuit Issue, I would have laughed. I can't even imagine how much joy a muslim girl would get to see this, to know that she could do this too if she wanted. It's the same feeling I got the first time I saw a fat swimsuit model.
Megan Rapinoe is the first openly gay women in the issue, let's here one for the LGTBQs !!!!!!!!!!
Megan Rapinoe isn't just the first openly gay woman in the issue, she's the fucking caption of the United States Women's National Soccer Team. A QUEEN. This is HUGE considering the magazine's main audience is straight dudes!! She talks about her journey in depth here, but just know she's a god damn badass. I know I keep calling everyone badasses, but that's what they are! Her teammate Alex Morgan was one of this years covers, and just goes to show that female athletes can be hot too. There's such a stigma that female athletes aren't as pretty because of their muscles, but like damn, Alex Morgan could punch me in the face and I'd say thank you. Abby Dahlkember, Crystal Dunn, Lindsey Vonn, Paige VanZant, and Simone Biles also rocked out their athletic bods for this year's issue.
Moving on from the models: The magazine is mostly edited by women
This is the best thing I've ever heard. To know that the editorial staff isn't just full of horned up white men deciding which girl looks the hottest in their swimsuit fills me with so much god damn joy. Two out of three of the covers were shot by female photographers too. BOY BYE! Thank GOD. Oh and one of them is a woman of color!! Our girl Tyra pulled one out for the homies and recommended Laretta Houston for the shoot, and she did nothing short of deliver.
In conclusion, I might actually have to go out and purchase this issue. I'm obsessed with it!  I'm so shook that some of the models are actually DIFFERENT. Not just blonde and size 2!!! LETS FUCKING GO.
---
Did you like this post?  You can follow me on Twitter (@biracial_booty), I like to think I'm pretty funny and also I tweet links to my blogs the second they go live (the literal second, I have it done automatically because I'm a social media #superstar). OR you could follow me on Instagram (@biracialbooty), I post more content, including my favorite Podcasts, music, makeup, various body positive posts featuring my chunky self and some of my favorite fat babes, and so much more!