If you're not watching this season of Bachelor in Paradise, I don't even wanna talk. This season is going to be DRAMA. And also a little bit gay (: I've said it before, but I don't typically watch Paradise, I end up bored halfway through the season, but honestly, this season is going to keep me entertained.
Except I have a huge ass issue. Blake. Sucks. And all the girls are in love with him. FOR NO REASON. Put all the stuff about his love triangle with Caelynn and Kristina – we'll get to that later – and he still sucks. He's so blah and boring!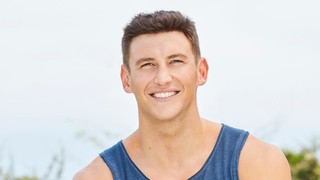 I mean… Could he be any more basic looking? He's very cute, don't get me wrong. I see this guy in person, I'm gunna be into it, but he's no Dylan… We'll get to Dylan later though.
I didn't watch Becca's season, which is the season that Blake was on, so I don't know too much about him, but based on the two-hour premiere of Paradise, I'm over him. The way he speaks makes my skin crawl. He seems like the kind of guy that buys you a drink at the bar and then expects you to fall in love with him. The kind of nice guy that gets mad that you friend zoned him. He is Ross Geller. He's screaming "we were on a break" and he's mad that the beautiful girl that he did dirty doesn't like him anymore. And he's just the worst type of human.
The entire first episode of Paradise was every single girl, except Caelynn, all over Blake and waiting on the edges of their seats to see who he picked for his date. Caelynn, who I was wicked annoyed with by the end of the episode, wouldn't stop telling the cameras and Wells about how much she hated Blake because they dated/talked and he was fucking other girls, other Bachelor girls mind you, and then supposedly swore her to secrecy about their relationship before they both were set to be on Paradise. When I tell you Caelynn wouldn't shut up about it, I mean it. Every single word out of her mouth was about Blake. Essentially, Blake and Caelynn were talking/dating and when a bunch of Bachelor people were at Stagecoach, and Blake hooked up with Kristina (also on Paradise) the night before he hooked up with Caelynn, AND THEN TOLD CAELYNN ABOUT IT AFTER THEY HAD SEX. So not only is he kind of scummy, assuming this is all true, he's also just stupid? Like honey, just don't say anything? Boys are dumb Jesus christ.
ANYWAYS. How the fuck do all of these ladies love Blake when my boy Dylan is around. I mean LOOK AT HIM.
If he wanted to eat sushi off my naked body, I for sure would not be mad about it.
BAYYYYYY-BBBYYYYYYYYY. Oh my lanta.
Look how fucking cute this kid is!!! Oh my god, I love him.
He just stole my heart. He's smitten over Hannah G and the way his face lights up when he sees her and you can just tell he's awkward and crushing hard is so fucking cute. I just cannot even begin to fathom how someone can look at both Blake and Dylan and pick Blake? It's just not a competition.
Anyways, happy Bachelor in Paradise season ladies and gents.
---
Did you like this post?  You can follow me on Twitter (@biracial_booty), I like to think I'm pretty funny and also I tweet links to my blogs the second they go live (the literal second, I have it done automatically because I'm a social media #superstar). OR you could follow me on Instagram (@biracialbooty), I post more content, including my favorite Podcasts, music, makeup, various body positive posts featuring my chunky self and some of my favorite fat babes, and so much more!