This is no hate on the OG Shrek, but Shrek 2 is just so much fucking better and as I sit here watching it, after spending my hard-earned money ($3.99) to rent it, I am reminded with every single scene how superior this movie is. Dreamworks took a great movie with great characters and somehow added more even better characters!? Puss in Boots was so good he got his own fucking movie! I need a Fairy Godmother movie ASAP honestly.
This movie starts off on a bang and truly, truly never stops being hilarious. The fucking dinner scene with Fiona's parents? Donkey's one-liners kill me every single fucking time.
King: Bon appetit!
Donkey: I love Mexican food!
I mean, come ON! That's comedic fucking gold!! Eddie Murphy can do no wrong honestly.
Tell me you didn't laugh during that. It's a fucking children's movie and I truly would rank this as a top ten funniest movies of all time. Don't ask me what the other 9 are, but this is for sure up there. God tier, folks, God tier.
The entire movie is hilarious. From Shrek and Fiona's honeymoon to the American Idol DVD bonus scene, it's fucking stellar. The Shrek franchise (the first two at least) are just top tier comedy, there's pop culture references, innuendos, and hilarious one-liners. Puss referring to Donkey as an ass is truly just fucking hilarious. Like this is a children's movie, yet here I am, 23 years old, and it still stands up, it's honestly even better now because I get more of the jokes.
Do you think I would go this entire blog without discussing the best fucking character in this movie? Fairy Fucking Godmother. Do I think she's a whackjob? Yeah. But, she also has one of the best musical numbers an animated movie has ever seen, nay, a movie has ever seen. And she is one badass bitch, emphasis on bad.
This song runs through my fucking veins. I want to be buried to this song. I want to conceive all of my children to this song. I want to be walked down the aisle to this song. I want this to be my metaphorical walk out song. I want this song played nonstop until the day I die. Do you get the picture?
Fairy Godmother is 100% that bitch. Lizzo coined the term, but it was about Fairy Godmother. She just wants her (dumbass) son to be a King, can you blame her? AND, the fucking King owes her one due to the fact that she's the reason he's even a human being! I know the whole point is that his wife loves him as a frog too, but like come on, being a human has it's advantages… Sex is for sure at the top of the list.
I know everyone always raves about the Shrek soundtrack, but Shrek 2 has just as great of a soundtrack.
Accidentally in Love
Changes
Funkytown
Livin La Vida Loca covered by Eddie Murphy and Antonio Banderas
Like BROOOOOOO, lets fucking GO.
If you don't like this movie, we honestly can't be friends. I can't pretend to like someone who doesn't enjoy this movie. You don't have sense of humor if you don't think this is even just a little bit funny.
In conclusion, I'm leaving you with some of the most iconic moments from this movie that transcend time and space: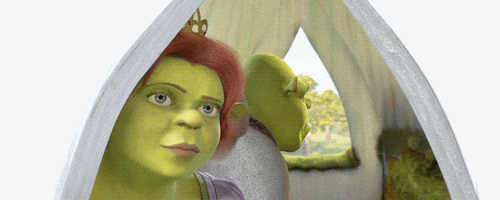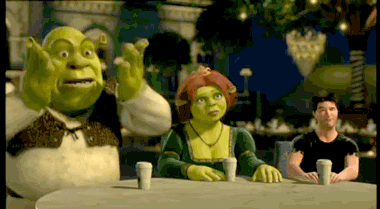 ---
Did you like this post?  You can follow me on Twitter (@biracial_booty), I'm pretty funny and also I tweet links to my blogs the second they go live (the literal second, I'm a social media #superstar). OR you could follow me on Instagram (@biracialbooty), I post more content, including my favorite Podcasts, music, makeup, various body-positive posts featuring my chunky self and some of my favorite fat babes, and so much more! ORRRR you could subscribe to my blog using your email, for more information on how to subscribe, click here.