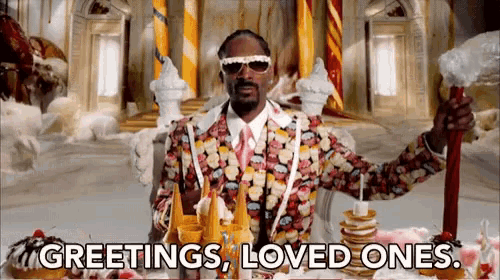 I woke up today with a realization. A realization that I want to get paid to blog and create content. I mean, I've known this for a long time, but Barstool made an announcement that they were just bought by some investing company (honestly idk what any of that means, I'm a marketing person, not a finance person), but it really got me thinking about how badly I want to work for that god damn company. And the only way I'm going to be able to do that is if I build up Biracial Booty and really perfect my blogs, and video content, and tweets, and Instagram posts. If you follow me on Instagram or have me on Snapchat, you have seen my announcement: I will be posting one (1) blog a day.
You heard me. One mother fucking blog a day. They might be really fucking short, but it's going to happen. I need to write more. I need to grind this out, and get myself back in gear. I have so much time, and so many thoughts, I need to just put hands to the keyboard. So, we start today, with this gimme "announcement" blog. We're going on a journey, hopefully, a good one, hopefully, a funny one.
Let's fucking go, ladies (and gents I guess).
---
Did you like this post?  You can follow me on Twitter (@biracial_booty), I'm pretty funny and also I tweet links to my blogs the second they go live (the literal second, I'm a social media #superstar). OR you could follow me on Instagram (@biracialbooty), I post more content, including my favorite Podcasts, music, makeup, various body-positive posts featuring my chunky self and some of my favorite fat babes, and so much more! ORRRR you could subscribe to my blog using your email, for more information on how to subscribe, click here.