Let's look at the facts: He's a chubby bear that wears crop tops, is kind of dumb, loves his friends more than anything, and is always hungry. Ding ding ding. It's me!
I was watching Christopher Robin yesterday with my sister, and if you have any sort of childhood nostalgia for Winnie the Pooh and the gang, I highly recommend watching it, when I realized that I really am just a human version of Pooh. He's a bear of very little brain, but enormous heart. I'm not super dumb, but lord knows I'm not the brightest bulb in the box, even if I pretend I am, and I like to think I'm very caring a good friend – friends, care to chime in????
Every morning Pooh wakes up, does his stretches, puts on his favorite red crop top, eats some honey and goes off to find his friends. He's very clearly an extrovert and needs to surround himself with people at all times, which is a fucking mood. He's happiest with his favorite food and his friends. Who can't relate to that!?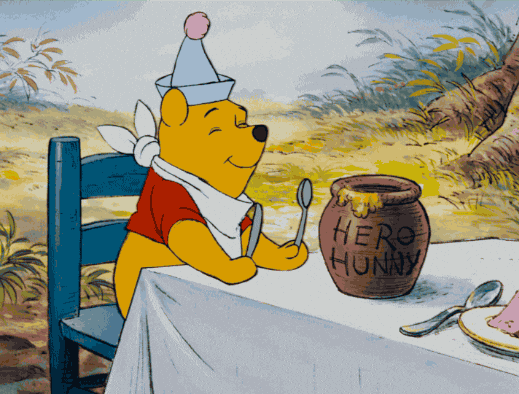 I fux with Pooh so hard man. He's a childhood favorite, and still to this day I love him. I quote the "I cannot knot" scene all the fucking time, and no one ever knows what I'm talking about.
Pooh's pure joy when he says "who's there?" KILLS me every single time. "Pooh who?" I'm cracking up just writing this right now. He's so CUTE. Jesus Christ, I love this silly old bear. Even just this thumbnail of the video, I am Pooh and my friends are Rabbit whenever I say something utterly ridiculous and annoying, which is really fucking often.
---
Did you like this post?  You can follow me on Twitter (@biracial_booty), I'm pretty funny and also I tweet links to my blogs the second they go live (the literal second, I'm a social media #superstar). OR you could follow me on Instagram (@biracialbooty), I post more content, including my favorite Podcasts, music, makeup, various body-positive posts featuring my chunky self and some of my favorite fat babes, and so much more! ORRRR you could subscribe to my blog using your email, for more information on how to subscribe, click here.