I was facetiming one of my friends before she embarked on one of the craziest afternoon hookups one can imagine (let me just tell you it was 11am, he was on his way, and that is just the START of the story, but that's a blog for another day), and I came up with the most ridiculous, but borderline genious hookup hack you will ever hear.
There are no shortage of girls that are having one night stands or Tinder/Bumble/Hinge dates come over for a hookup, or going over to a hookups house. Especially when you're in your early/mid twenties. And of these girls, there's never a shortage of girls that are nervous for these. What if he's weird, what if he murders me, what if he just wants to watch The People Vs OJ and cuddle instead of having sex (IYKYK)… I feel like there's always a text in the groupchat saying "I might need you to bail me out" or "I might need you to fake an emergency later" in case something goes horribly wrong. And friends are always prepared to step in to fix it.
Well you know what, I got a new way to do that ladies. You tell said hookup you want to order food and instead of calling the pizza place, you call one of your friends and order to them. From here we have a couple options, we can get serious for a second and if your friend orders a certain thing you straight up just call 911. You set a certain order with your friends, say it's a large pizza with peppers and onions, and that means "I need help, and I need it NOW." I hate that that's even a thought that I had, but unfortunatuly due to the fact that men are fucking horrible, it is. Back to the lighthearted funny side, you call your friend, tell them what pizza or sub, or whatever the hell you want to eat, and then your friend goes to the restaurant orders it and delivers it to the house/apartment/dorm. Your friend get's to creep on the guy a little bit, maybe save you from an awkward conversation or time. Even if everything's going decently fine, it can break up any potential awkwardness. Lord knows we've all been at a guys house or have a guy over and we're just sitting there so uncomfortably. Nothing helps that more than your best friend showing up with food!!!!!!!
Boom. I'm a fucking GENIOUS. No one will ever fucking do this, but if you do, PLEASE let me know. Sounds like a seen out of a sitcom.
Safety first ladies. Get laid, but also safely plz and thank u.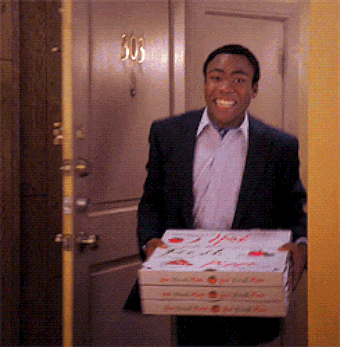 ---
Did you like this post?  You can follow me on Twitter (@biracial_booty), I'm pretty funny and also I tweet links to my blogs the second they go live (the literal second, I'm a social media #superstar). OR you could follow me on Instagram (@biracialbooty), I post more content, including my favorite Podcasts, music, makeup, various body-positive posts featuring my chunky self and some of my favorite fat babes, and so much more! ORRRR you could subscribe to my blog using your email, for more information on how to subscribe, click here.