February 29th. It only happens once every four years to keep us in sync with the seasons (I think). Which means it's special. A very special, and made up day that doesn't count. Phil Dunphy, one of TV's greatest dads said it best, "wake up boys, it's leap day, not sleep day!"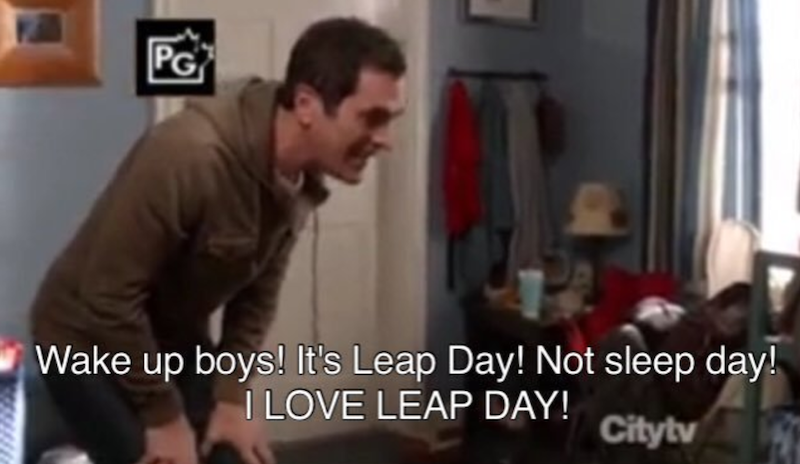 It's a day to do whatever the fuck you want, and this year, because it's a Saturday you TRULY can do whatever the fuck you want. Get a tattoo, dye your hair, confess your love for someone, rob a bank!! Legally, they can't catch you because today doesn't exist!
Please don't rob a bank, today being leap day cannot be used as a defense in a federal court. But, do dye your hair or get a tattoo, or a piercing, or just anything harmless and dumb.
What will I be doing you may be asking? I am going to dye my friend Maryanne's hair blonde. Which, if you know Maryanne, you know she has wildly dark black hair, so THIS is going to be a fucking TRIP. Lets. Fucking. GO. Ladies and gents you now are free to leap.
---
Did you like this post?  You can follow me on Twitter (@biracial_booty), I'm pretty funny and also I tweet links to my blogs the second they go live (the literal second, I'm a social media #superstar). OR you could follow me on Instagram (@biracialbooty), I post more content, including my favorite Podcasts, music, makeup, various body-positive posts featuring my chunky self and some of my favorite fat babes, and so much more! ORRRR you could subscribe to my blog using your email, for more information on how to subscribe, click here.