That's a doozy of a blog title, but it's the truth. I legitimately think my serotonin levels peaked back then.
Where are all my Tumblr Directioners at???? Who's shocked that I ran a One Direction blog on Tumblr for like 4 years? Because it's incredibly on brand for me if I do say so myself. Not gunna lie, I don't trust Harry Style Stans that weren't One Direction Stans. Like how did it take you THIS long to realize how incredible Harry is?
Sorry, back to the point on hand. Harry Styles with some nice ass flow and a whole lot of hats:
Oh my god I miss this so much. That god damn Packers hat was ICONIC. I remember seeing these pics for the first time and blogging about them like it was yesterday. I've always been fucking crazy guys, nothing has changed.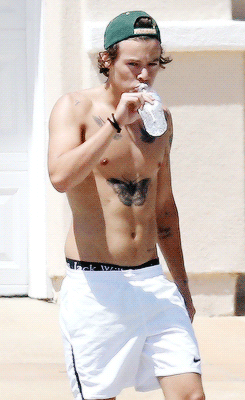 These paparazzi pics were truly truly an iconic moment in One Direction Fandom history. If you know, you god damn KNOW. It was one of the first times everyone was like woah, Harry's a fucking sexy son of a bitch. God damn it I love him so fucking much.
I really hope there are some people reading this that were on Tumblr and seeing this and understand what the hell I'm talking about. It was a whole damn thing and it was the best damn thing. Maybe I'll write a blog roasting my old Tumblr, because it's fucking embarassing. For now, enjoy these iconic photos of Harry Styles and get wildly upset that he'll never fall in love with you.
---
Did you like this post?  You can follow me on Twitter (@biracial_booty), I'm pretty funny and also I tweet links to my blogs the second they go live (the literal second, I'm a social media #superstar). OR you could follow me on Instagram (@biracialbooty), I post more content, including my favorite Podcasts, music, makeup, various body-positive posts featuring my chunky self and some of my favorite fat babes, and so much more! ORRRR you could subscribe to my blog using your email, for more information on how to subscribe, click here.