I've been a makeup addict for a very long time. I still remember the day I fell in love. I got one of those makeup kits from Claire's in 7th grade, that had eyeshadows, eyeliner, blush, and mascara in it. BOOM. A love was born. Since I'm so in love with makeup, a lot of people always ask me what products I use or recommend so I figured I would put it into a blog post for you! It's a combination of drugstore and high end, online shopping and in-store shopping. These are the products I use most of the time, so they are the ones that I love. I haven't tried everything, but this is what works for me and what I enjoy.
---
Tools:

Real Techniques EVERYTHING!
This brand has the best drug store brushes. I have a thousand and one brushes, all of them are relatively cheap because I can't commit to buying expensive ones yet, and my favorites are my RT's. Their beauty sponge is PHENOMENAL and their eye brushes blend like a dream. If you get anything from this blog post pick up their Eye Shade + Blend brush duo and have yourself a day. I have three of these, and I want even more.
---
Face/Foundation:
Maybelline Fit Me
This is one of my die-hard favorite foundations. I've tried a lot of foundations in my day, and this one is a dream. It blends easily, has a fantastic color range, and doesn't get super oily or dry on my skin. There are 40 shades, and it costs less than $10, legit what more could you ask for from a foundation!?
Wet and Wild Photo Focus Foundation
More drug store!! This foundation doesn't come in many shades, but for $6 I can't be THAT mad at it (I'm still a little mad). This one takes a little bit more work to blend into the skin, but once it's blended it's borderline flawless. I wear A LOT of foundation and even more powder on top, and this doesn't get cakey and it lasts all day. If you're looking for a cheap fix, definitely grab this one.
---
Bronzer/Contour: 
Benefit Hoola Bronzer
I just recently tried this one out, I originally bought it for a friend, but then quickly realized it would be too dark for her and kept it for myself. This bronzer is the perfect shade for me, and it blends like a dream. It brings color back to my face and gives me the most amazing sunkissed look.
Sephora Collection Colorful Face Powders in Fiji
This is the most wonderful contour shade for my complexion (at least my winter complexion). It is just the right amount of cool tone that it doesn't have a grey cast, and it blends out amazingly. I can put this in the hollows of my cheeks or use it as a slight bronzer and it just fits so well with the rest of my face products. 

---
Highlight:

Wet and Wild Mega Glow
WOWWWWWWW!!!!!!!!!!! That's honestly all I have to say. Just wow. THIS HIGHLIGHTER IS EVERYTHING. AND IT'S $5!!!!!!!!!!!!!!!!! If you want to glow for the God's, get this Highlighter. If you're looking for that natural glow, this is NOT the highlighter for you. This is for the Nikkietutorials on a budget look. The Farrah Moan taste, with a Rite Aid budget kind of girl (if you don't get these references please text me so I can explain because you're truly missing out).
---
Eyes:
Morphe Palettes
I haven't been this in love with an eyeshadow palette since I first bought the Urban Decay Naked pallet back in high school. I have the 350 Nature Glow Eyeshadow Palette and the 35B Color Burst Eyeshadow Palette and I almost exclusively use these palettes when creating eye looks.
---
Mascara:

Two Faced Better Than Sex
I swear by this mascara. It's one of the few things that I am constantly rebuying. I love trying out new makeup products, especially mascara, but I am always finding myself going back to this one. It's not clumpy, it doesn't flake off, and it makes my lashes thiccc with three c's. Whenever I start to run out of this mascara I want to cry because it's so out of mt $3 for everything price range, but it so so soooooo worth it.
---
Eyebrows:
ELF Eyebrow Pencil
I don't actually know a lot about eyebrow products other than the fact that I hate powders. I have pretty thick eyebrows and I just use this to shape them a little better and to make them look more even. This pencil is $2 and does the job, so it gets 5 stars from me!! And it has a spooly on the end which is even better! 6 stars honestly!
---
Lips: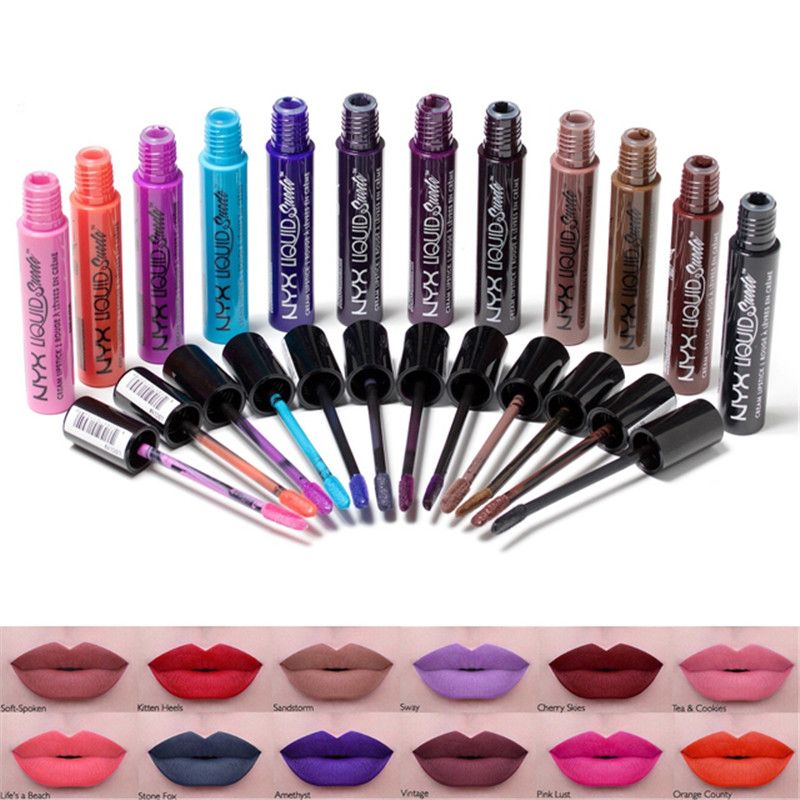 Nyx Liquid Suede
If you know me, you know that I'm OBSESSED with lipstick and that I almost always have one of these lipsticks on me. I have 16/24 shades. I'm obsessed. They aren't as long-wearing as typical liquid lipsticks, but they aren't drying and they are decently budge proof. My favorite shades are Alien, Brooklyn Thorn, and Downtown Beauty. They're $7 and last for so long. I've only ever run out of Brooklyn Thorn (I'm on my third tube) and that's because I wear it almost every time I go out, but for $7, I'll replace this until I die.